WHAT IS COGNITIVE BEHAVIOUR THERAPY?
Cognitive-Behaviour Therapy, known as CBT, is a type of talking therapy widely used in the treatment of anxiety, depression, eating disorders and many other emotional difficulties. It is one of the most researched psychotherapeutic approaches and consequently it is endorsed by the National Institute for Health and Care Excellence in the UK (NICE guidelines). CBT focuses on 3 main aspects of our functioning: thoughts, feelings and behaviour.
When facing difficulties, the way we think may impact on our actions and our emotions. If our thoughts are negative or unhelpful, they may exacerbate the situation and lead to intense psychological distress. In therapy we aim to identify these patterns together and develop a joint plan on how to address them. CBT has been found to reduce maladaptive thinking and unhelpful behaviour, which together is associated to an improvement in emotional health.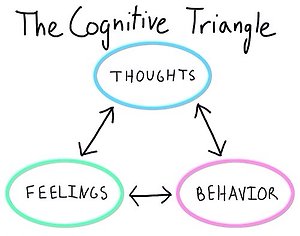 Below we attempt to illustrate how these three components may impact individuals facing the same event but who respond to it differently. For example, if someone spots a colleague across the street but they do not wave back:
Claire might feel it was her fault, that she did something wrong and her colleague ignored her out of anger. This pattern of thinking might lead to increased anxious feelings. Claire might go out of her way to be nice and appease people to avoid such situations happening in the future
Tom might think that his colleague has chosen to ignore him because they are ashamed of their friendship. This way of thinking is associated to low mood and Tom may subsequently withdraw from other peers.
Rachel, however, imagines her colleague is caught up in their thoughts and decides she will call them later to check how they are, indicating care. Rachel won't be impacted by her colleague's distraction and will likely feel good about her caring attitude and availability.
These examples help us understand how biased interpretation of events can lead to maladaptive coping mechanisms and impact on how we feel about ourselves and the world. Negative patterns of thinking and relating have a detrimental impact on our emotional health. In therapy you and your therapist will try to identify unhelpful ways of thinking & behaving and develop alternative ways of responding. Hopefully your therapy will enable you to relate to life more fruitfully, leading to improvement in your mental wellness.
The length of therapy varies around 20 sessions, although at times a longer piece of work might be recommended. At your initial consultation your therapist will gather the necessary information to formulate an initial plan jointly. For some people, however, therapy can be built into their routine and it is experienced as an opportunity to self-care and to monitor how well they are doing. In such cases therapy can be ongoing until one feels ready to stop. Therapy sessions last 50 minutes weekly.
Despite its effectiveness, as indicated by extensive research, one size does not fit all. If this happens, we encourage you to bring any difficulties to be discussed with your therapist. Fortunately, there are many different types of psychological therapies and all professionals at Oxford Mind and Body are trained in a variety of approaches. We value flexibility and we are keen to match our expertise to our clients' needs. Do get in touch to book an assessment with us.
.