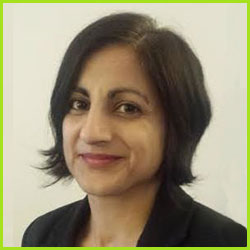 Dr Parveen Bains is a Medical Psychotherapist and currently holds an NHS Consultant post in Medical Psychotherapy in Hertfordshire. She has previously worked in both the Eating Disorders services in Oxford and Wiltshire and as an NHS Consultant Psychiatrist in Eating Disorders in West London Mental Health Trust, based in Ealing. Her experience in Psychotherapy is broad based; she has worked in the Psychological Services department at the Warneford Hospital for many years and also at the Isis Centre in Oxford, working with both individuals and groups with a variety of different emotional problems. This has included working with adults with depression, trauma, anxiety/stress, eating disorders, physically unexplained symptoms and relationship problems. She is very experienced with working with both the physical and emotional aspects of mental illness and works with clients in a holistic way according to their individual needs.
Parveen is a UK Council of Psychotherapy accredited Psychodynamic Psychotherapist and a member of the Royal College of Psychiatrists. In addition, she has also worked with clients with Eating Disorders using Cognitive Behavioural Therapy for Eating Disorders (CBT E), Mentalisation Based Therapy (MBT), Dialectical Behavioural Therapy (DIT) and Systemic Therapy.
Parveen completed a Medical degree in London and then went onto complete her junior training in Psychiatry at the Maudsley Hospital, London. She came to Oxford to complete higher specialist training in Medical Psychotherapy and during this time developed a special interest in working psychotherapeutically with clients with Eating Disorders. She believes that it is important to work collaboratively with clients using a range of different therapeutic approaches according to individual need and preference as there is no "one size fits all".